Listen, I get it. The holiday season is a busy time. There are relatives. There is food. There are various and sundry school and work festivities you're obliged to take part in. You have to buy gifts (from your favorite online shop, probably) and you have to practice your "Oh this is such a great gift!" face for when someone gets you a truly heinous thing that no one in their right mind would ever pay actual money for. It's a hectic time of year. I get it.
However:
THIS DOES NOT EXCUSE YOU FROM APOSTROPHE ABUSE IN YOUR HOLIDAY CARDS.
There. I said it. STEP AWAY FROM THE APOSTROPHE.
Since I know you're busy and you don't have time to Google the rules for making names plural, I have taken pity upon you and created a little guide. I know, I'm amazing. You're welcome.
Do NOT use an apostrophe. I know you want to. I know it's right there, just waiting to be the hook that you hang that s onto, but resist. You can do it. Back away.
If your name ends in any letter other than s, x, z, ch, or sh, just slap that s right on there. Bam! Done.
If your name ends in s, x, z, ch, or sh, add an es (e.g., Rodriguezes, Joneses). I know it looks weird. Get over it.
Whew! People. It's that simple. You can do it. We believe in you.
And if you need a quick reminder, or if you can't quite get this concept across to a loved one, we have the perfect gift.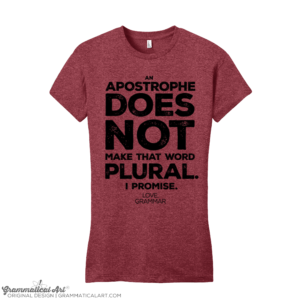 Order by December 15th to get it by Christmas!